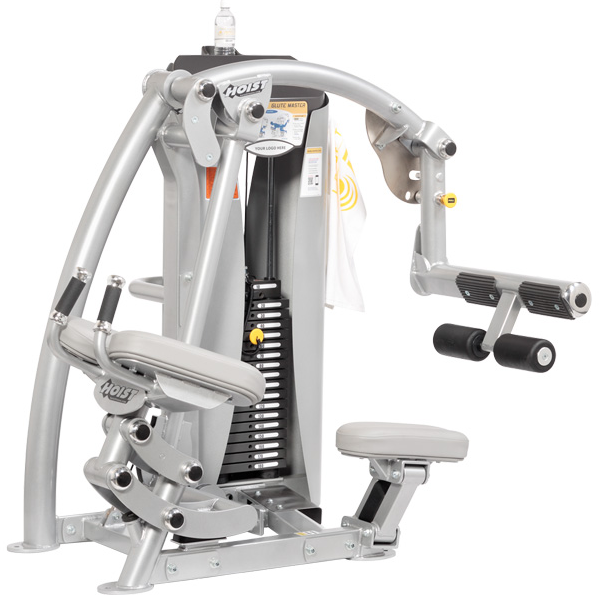 HOIST ROC-IT Selectorized RS-1412 Glute Master
Dynamic adjustment is the essence behind the new ROC-IT™line from HOIST®. Using ROX™ technology, the user becomes an integral part of the exercise by continuously adjusting the position of the user with the movement of the exercise arm. As a result, the ROC-IT line embodies a unique training experience that achieves the unrestricted joint movement and core activating benefits of functional training coupled with the stabilizing benefits of machine-based equipment. Try it out for yourself and experience the ride of the ROC-IT line!
Knee pad adjusts with pivoting movement for accurate left and right exercise positioning
Added forearm support and angled-grip handles allow users to engage core muscles throughout the exercise
Rocking downward movement of the upper torso during the exercise offers an optimal range of exercise motion
Angled forearm and pivoting knee pads offer constant upper and lower body support to avoid unnatural loading of the spine
Foot plate adjusts to accomodate varied leg lengths
    Product Width: 57.50" (146 cm)
    Product Height: 54.75" (139 cm)
    Product Length: 52.60" (134 cm)
    Machine Weight: 580 lbs. (263 kg)
HOIST® offers one of the best warranty policies in the industry, reaffirming our commitment to quality and customer satisfaction. HOIST warranties this product to the original purchaser only. HOIST guarantees this product to be free from defects in workmanship and/or materials under normal use or service.

For complete Warranty Information, click on the "Support" link. Warranty policy applies to defects from the manufacturer only. HOIST reserves the right to change product specifications, design, and function at any time.
---
Share this Product